Hurricane and Tropical Forecast
(When conditions warrant, please scroll down for additional maps and forecast information.
PLEASE BE PATIENT - Information may take up to 60 seconds to load from the remote servers.)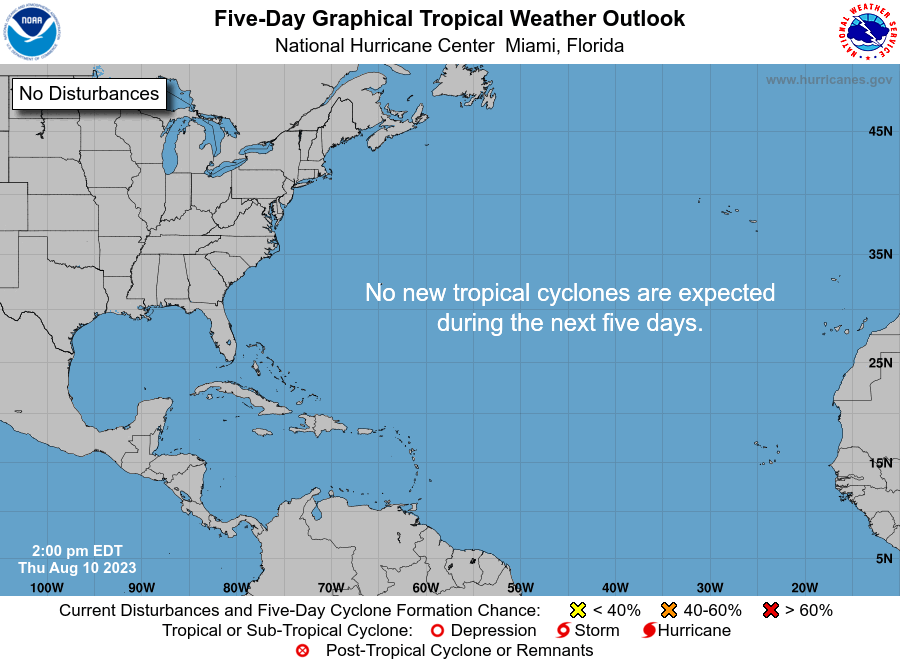 364 

ABNT20 KNHC 181732

TWOAT 



Tropical Weather Outlook

NWS National Hurricane Center Miami FL

200 PM EDT Tue Sep 18 2018



For the North Atlantic...Caribbean Sea and the Gulf of Mexico:



The National Hurricane Center is issuing advisories on Tropical

Depression Joyce, located several hundred miles south of the

Azores. The NOAA Weather Prediction Center has issued the

final advisory on Post-Tropical Cyclone Florence, located just

off the coast of New England.



Tropical cyclone formation is not expected during the next 5 days.



$$

Forecaster Brown



The NHC has issued its final advisory on this system. Public Advisories from the Weather Prediction Center will provide updates as long as the system remains a flood threat. Issued at 1100 AM EDT Tue Sep 18 2018
...JOYCE IS EXPECTED TO BECOME A REMNANT LOW LATE TONIGHT OR BY EARLY WEDNESDAY...
 As of 5:00 PM AST Tue Sep 18
 the center of Joyce was located near 30.9, -27.8
 with movement SSW at 7 mph.
 The minimum central pressure was 1010 mb
 with maximum sustained winds of about 30 mph.
Issued at 500 PM AST Tue Sep 18 2018  



711 
WTNT35 KNHC 182028
TCPAT5

BULLETIN
Tropical Depression Joyce Advisory Number  25
NWS National Hurricane Center Miami FL       AL102018
Issued by the NWS Weather Prediction Center College Park MD
500 PM AST Tue Sep 18 2018

...JOYCE IS EXPECTED TO BECOME A REMNANT LOW LATE TONIGHT OR BY
EARLY WEDNESDAY...


SUMMARY OF 500 PM AST...2100 UTC...INFORMATION
----------------------------------------------
LOCATION...30.9N 27.8W
ABOUT 490 MI...790 KM S OF THE AZORES
MAXIMUM SUSTAINED WINDS...30 MPH...45 KM/H
PRESENT MOVEMENT...SSW OR 205 DEGREES AT 7 MPH...11 KM/H
MINIMUM CENTRAL PRESSURE...1010 MB...29.83 INCHES


WATCHES AND WARNINGS
--------------------
There are no coastal watches or warnings in effect.


DISCUSSION AND OUTLOOK
----------------------
At 500 PM AST (2100 UTC), the center of Tropical Depression Joyce
was located near latitude 30.9 North, longitude 27.8 West. The
depression is moving toward the south-southwest near 7 mph (11 km/h)
and this motion is expected to gradually turn to the southwest and
west through early Thursday.

Maximum sustained winds have decreased to near 30 mph (45 km/h)
with higher gusts. Gradual weakening is forecast during the next 36
hours, and Joyce is forecast to become a remnant low late tonight or
early Wednesday.

The estimated minimum central pressure is 1010 mb (29.83 inches).


HAZARDS AFFECTING LAND
----------------------
None.


NEXT ADVISORY
-------------
Next complete advisory at 1100 PM AST.

$$
Forecaster Campbell/Blake



Issued at 2100 UTC TUE SEP 18 2018  



712 
WTNT25 KNHC 182028
TCMAT5

TROPICAL DEPRESSION JOYCE FORECAST/ADVISORY NUMBER  25
NWS NATIONAL HURRICANE CENTER MIAMI FL       AL102018
ISSUED BY THE NWS WEATHER PREDICTION CENTER COLLEGE PARK MD
2100 UTC TUE SEP 18 2018

THERE ARE NO COASTAL WATCHES OR WARNINGS IN EFFECT.

TROPICAL DEPRESSION CENTER LOCATED NEAR 30.9N  27.8W AT 18/2100Z
POSITION ACCURATE WITHIN  20 NM

PRESENT MOVEMENT TOWARD THE SOUTH-SOUTHWEST OR 205 DEGREES AT   6 KT

ESTIMATED MINIMUM CENTRAL PRESSURE 1010 MB
MAX SUSTAINED WINDS  25 KT WITH GUSTS TO  35 KT.
WINDS AND SEAS VARY GREATLY IN EACH QUADRANT.  RADII IN NAUTICAL
MILES ARE THE LARGEST RADII EXPECTED ANYWHERE IN THAT QUADRANT.

REPEAT...CENTER LOCATED NEAR 30.9N  27.8W AT 18/2100Z
AT 18/1800Z CENTER WAS LOCATED NEAR 31.2N  27.6W

FORECAST VALID 19/0600Z 30.2N  28.3W...POST-TROP/REMNT LOW
MAX WIND  20 KT...GUSTS  30 KT.

FORECAST VALID 19/1800Z 29.6N  29.4W...POST-TROP/REMNT LOW
MAX WIND  20 KT...GUSTS  30 KT.

FORECAST VALID 20/0600Z 29.1N  30.9W...POST-TROP/REMNT LOW
MAX WIND  15 KT...GUSTS  20 KT.

FORECAST VALID 20/1800Z...DISSIPATED

REQUEST FOR 3 HOURLY SHIP REPORTS WITHIN 300 MILES OF 30.9N  27.8W

NEXT ADVISORY AT 19/0300Z

$$
FORECASTER CAMPBELL/BLAKE




Issued at 500 PM AST Tue Sep 18 2018  



812 
WTNT45 KNHC 182029
TCDAT5

Tropical Depression Joyce Discussion Number  25
NWS National Hurricane Center Miami FL       AL102018
Issued by the NWS Weather Prediction Center College Park MD
500 PM AST Tue Sep 18 2018

Deep convection has generally been on the wane during the past day
or so near the center of Joyce, and it is getting very close to no
longer having organized deep convection.  With the decrease in
overall organization, the initial wind speed is set to 25 kt.  An
environment of strong westerly vertical wind shear (30-40 kt)
and marginal sea surface temperatures (around 25C) should cause
Joyce to become a remnant low by late tonight or early Wednesday.
This agrees well with the latest global model guidance, and the
timing of remnant low status has been moved up to 12 hours (or
less).

The initial motion of Joyce continues to turn and is now south-
southwestward (205 degrees at 6 kt).  The depression is forecast
to turn increasingly to the southwest and west as the central
Atlantic ridge builds to the north. Model guidance, except the HWRF,
is tightly clustered, so the new forecast track is essentially an
update of the previous one, closest to the HCCA consensus model.


FORECAST POSITIONS AND MAX WINDS

INIT  18/2100Z 30.9N  27.8W   25 KT  30 MPH
 12H  19/0600Z 30.2N  28.3W   20 KT  25 MPH...POST-TROP/REMNT LOW
 24H  19/1800Z 29.6N  29.4W   20 KT  25 MPH...POST-TROP/REMNT LOW
 36H  20/0600Z 29.1N  30.9W   15 KT  15 MPH...POST-TROP/REMNT LOW
 48H  20/1800Z...DISSIPATED

$$
Forecaster Campbell/Blake



Issued at 2100 UTC TUE SEP 18 2018  



699 
FONT15 KNHC 182028
PWSAT5

TROPICAL DEPRESSION JOYCE WIND SPEED PROBABILITIES NUMBER  25
NWS NATIONAL HURRICANE CENTER MIAMI FL       AL102018
ISSUED BY THE NWS WEATHER PREDICTION CENTER COLLEGE PARK MD
2100 UTC TUE SEP 18 2018

AT 2100Z THE CENTER OF TROPICAL DEPRESSION JOYCE WAS LOCATED NEAR
LATITUDE 30.9 NORTH...LONGITUDE 27.8 WEST WITH MAXIMUM SUSTAINED
WINDS NEAR 25 KTS...30 MPH...45 KM/H.

Z INDICATES COORDINATED UNIVERSAL TIME (GREENWICH)
   ATLANTIC STANDARD TIME (AST)...SUBTRACT 4 HOURS FROM Z TIME
   EASTERN  DAYLIGHT TIME (EDT)...SUBTRACT 4 HOURS FROM Z TIME
   CENTRAL  DAYLIGHT TIME (CDT)...SUBTRACT 5 HOURS FROM Z TIME

WIND SPEED PROBABILITY TABLE FOR SPECIFIC LOCATIONS

CHANCES OF SUSTAINED (1-MINUTE AVERAGE) WIND SPEEDS OF AT LEAST
   ...34 KT (39 MPH... 63 KM/H)...
   ...50 KT (58 MPH... 93 KM/H)...
   ...64 KT (74 MPH...119 KM/H)...
FOR LOCATIONS AND TIME PERIODS DURING THE NEXT 5 DAYS

PROBABILITIES FOR LOCATIONS ARE GIVEN AS OP(CP) WHERE
    OP  IS THE PROBABILITY OF THE EVENT BEGINNING DURING
        AN INDIVIDUAL TIME PERIOD (ONSET PROBABILITY)
   (CP) IS THE PROBABILITY OF THE EVENT OCCURRING BETWEEN
        18Z TUE AND THE FORECAST HOUR (CUMULATIVE PROBABILITY)

PROBABILITIES ARE GIVEN IN PERCENT
X INDICATES PROBABILITIES LESS THAN 1 PERCENT
PROBABILITIES FOR 34 KT AND 50 KT ARE SHOWN AT A GIVEN LOCATION WHEN
THE 5-DAY CUMULATIVE PROBABILITY IS AT LEAST 3 PERCENT.
PROBABILITIES FOR 34...50...64 KT SHOWN WHEN THE 5-DAY
64-KT CUMULATIVE PROBABILITY IS AT LEAST 1 PERCENT.


  - - - - WIND SPEED PROBABILITIES FOR SELECTED LOCATIONS - - - -

               FROM    FROM    FROM    FROM    FROM    FROM    FROM
  TIME       18Z TUE 06Z WED 18Z WED 06Z THU 18Z THU 18Z FRI 18Z SAT
PERIODS         TO      TO      TO      TO      TO      TO      TO
             06Z WED 18Z WED 06Z THU 18Z THU 18Z FRI 18Z SAT 18Z SUN

FORECAST HOUR    (12)   (24)    (36)    (48)    (72)    (96)   (120)
- - - - - - - - - - - - - - - - - - - - - - - - - - - - - - - - - -
LOCATION       KT

$$
FORECASTER CAMPBELL/BLAKE





5-Day Uncertainty Track last updated Tue, 18 Sep 2018 20:49:41 GMT



 

Wind Speed Probabilities last updated Tue, 18 Sep 2018 21:21:27 GMT