Hurricane and Tropical Forecast
(When conditions warrant, please scroll down for additional maps and forecast information.
PLEASE BE PATIENT - Information may take up to 60 seconds to load from the remote servers.)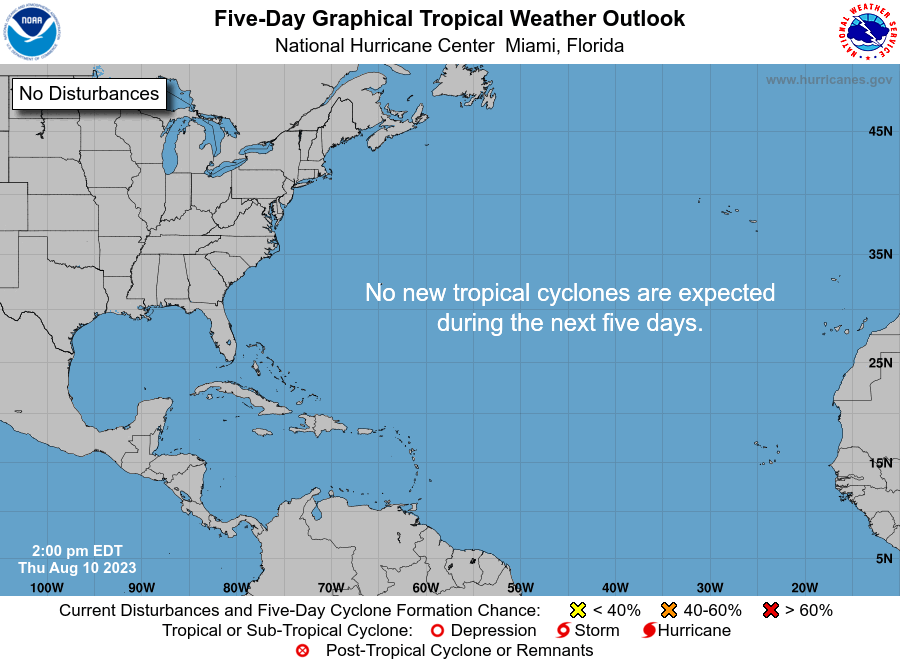 000

ABNT20 KNHC 032317

TWOAT 



Tropical Weather Outlook

NWS National Hurricane Center Miami FL

800 PM EDT Sat Jun 3 2023



For the North Atlantic...Caribbean Sea and the Gulf of Mexico:



The National Hurricane Center has issued the last advisory on 

Post-Tropical Cyclone Arlene, located over the southeastern Gulf of 

Mexico.



Tropical cyclone formation is not expected during the next 7 days.



$$

Forecaster Reinhart

...ARLENE NOW A REMNANT LOW... ...THIS IS THE LAST ADVISORY...
 As of 5:00 PM EDT Sat Jun 3
 the center of Arlene was located near 23.7, -84.7
 with movement SSE at 7 mph.
 The minimum central pressure was 1001 mb
 with maximum sustained winds of about 30 mph.
Issued at 500 PM EDT Sat Jun 03 2023  



000
WTNT32 KNHC 032038
TCPAT2
 
BULLETIN
Post-Tropical Cyclone Arlene Advisory Number  10
NWS National Hurricane Center Miami FL       AL022023
500 PM EDT Sat Jun 03 2023
 
...ARLENE NOW A REMNANT LOW...
...THIS IS THE LAST ADVISORY...
 
 
SUMMARY OF 500 PM EDT...2100 UTC...INFORMATION
----------------------------------------------
LOCATION...23.7N 84.7W
ABOUT 135 MI...215 KM WSW OF THE DRY TORTUGAS
MAXIMUM SUSTAINED WINDS...30 MPH...45 KM/H
PRESENT MOVEMENT...SSE OR 150 DEGREES AT 7 MPH...11 KM/H
MINIMUM CENTRAL PRESSURE...1001 MB...29.56 INCHES
 
 
WATCHES AND WARNINGS
--------------------
There are no coastal watches or warnings in effect.
 
 
DISCUSSION AND OUTLOOK
----------------------
At 500 PM EDT (2100 UTC), the center of Post-Tropical Cyclone Arlene
was located near latitude 23.7 North, longitude 84.7 West. The
post-tropical cyclone is moving toward the south-southeast near 7
mph (11 km/h). A turn to the east is expected by tonight, and that 
motion should continue until the system dissipates.
 
Maximum sustained winds are near 30 mph (45 km/h) with higher gusts. 
Continued weakening is forecast, and Arlene is expected to dissipate 
on Sunday.
 
The estimated minimum central pressure is 1001 mb (29.56 inches).
 
 
HAZARDS AFFECTING LAND
----------------------
RAINFALL: Rainfall amounts of 1 to 2 inches with localized higher
amounts up to 5 inches are possible into this evening across 
portions of the southern Florida Peninsula. The heavy rainfall 
could lead to isolated flash, urban, and small stream flooding 
impacts.
 
 
NEXT ADVISORY
-------------
This is the last public advisory issued by the National Hurricane
Center on Arlene.  For additional information on the remnant 
low, see High Seas Forecasts issued by the National Weather Service
under AWIPS header NFDHSFAT1, WMO header FZNT01 KWBC, and online at 
ocean.weather.gov/shtml/NFDHSFAT1.php
 
$$
Forecaster Cangialosi
 

Issued at 2100 UTC SAT JUN 03 2023  



479 
WTNT22 KNHC 032037
TCMAT2
 
POST-TROPICAL CYCLONE ARLENE FORECAST/ADVISORY NUMBER  10
NWS NATIONAL HURRICANE CENTER MIAMI FL       AL022023
2100 UTC SAT JUN 03 2023
 
NOTICE... LAND-BASED TROPICAL CYCLONE WATCHES AND WARNINGS ARE NO
LONGER INCLUDED IN THE TROPICAL CYCLONE FORECAST/ADVISORY...(TCM).
CURRENT LAND-BASED COASTAL WATCHES AND WARNINGS CAN BE FOUND IN THE
MOST RECENTLY ISSUED TROPICAL CYCLONE PUBLIC ADVISORY...(TCP).
 
POST-TROPICAL CYCLONE CENTER LOCATED NEAR 23.7N  84.7W AT 03/2100Z
POSITION ACCURATE WITHIN  15 NM
 
PRESENT MOVEMENT TOWARD THE SOUTH-SOUTHEAST OR 150 DEGREES AT   6 KT
 
ESTIMATED MINIMUM CENTRAL PRESSURE 1001 MB
MAX SUSTAINED WINDS  25 KT WITH GUSTS TO  35 KT.
WINDS AND SEAS VARY GREATLY IN EACH QUADRANT.  RADII IN NAUTICAL
MILES ARE THE LARGEST RADII EXPECTED ANYWHERE IN THAT QUADRANT.
 
REPEAT...CENTER LOCATED NEAR 23.7N  84.7W AT 03/2100Z
AT 03/1800Z CENTER WAS LOCATED NEAR 23.9N  85.0W
 
FORECAST VALID 04/0600Z 23.6N  83.2W...POST-TROP/REMNT LOW
MAX WIND  20 KT...GUSTS  30 KT.
 
FORECAST VALID 04/1800Z...DISSIPATED
 
REQUEST FOR 3 HOURLY SHIP REPORTS WITHIN 300 MILES OF 23.7N  84.7W
 
THIS IS THE LAST FORECAST/ADVISORY ISSUED BY THE NATIONAL HURRICANE 
CENTER ON ARLENE. FOR MORE INFORMATION SEE HIGH SEAS FORECASTS 
ISSUED BY THE NATIONAL WEATHER SERVICE UNDER AWIPS HEADER 
NFDHSFAT1, WMO HEADER FZNT01 KWBC, AND ONLINE AT 
OCEAN.WEATHER.GOV/SHTML/NFDHSFAT1.PHP
 
$$
FORECASTER CANGIALOSI
 
 


Issued at 500 PM EDT Sat Jun 03 2023  



000
WTNT42 KNHC 032039
TCDAT2
 
Post-Tropical Cyclone Arlene Discussion Number  10
NWS National Hurricane Center Miami FL       AL022023
500 PM EDT Sat Jun 03 2023
 
Arlene has lacked organized deep convection for quite some time now, 
since about 07Z.  There have been a few short-lived small bursts of 
convection in the northeast quadrant, but they have been getting 
quickly sheared off and lack organization.  Therefore, Arlene no 
longer meets the definition of a tropical cyclone and the system is 
now a remnant low.  The initial intensity is estimated to be 25 kt 
based on a partial ASCAT pass, surface observations, and the earlier 
reconnaissance data.  Strong vertical wind shear and dry air should 
continue to cause weakening, and this system is expected to open 
into a trough on Sunday.

The low pressure area is moving south-southeastward at 6 kt.  A turn 
to the east is expected tonight and that motion should continue 
until the system dissipates.  The remnant low will likely enhance 
rainfall over portions of southern Florida through tonight.

This is the last NHC advisory on Arlene.  For more information, 
see High Seas Forecasts issued by the National Weather Service
under AWIPS header NFDHSFAT1, WMO header FZNT01 KWBC, and online at 
ocean.weather.gov/shtml/NFDHSFAT1.php

FORECAST POSITIONS AND MAX WINDS
 
INIT  03/2100Z 23.7N  84.7W   25 KT  30 MPH...POST-TROPICAL
 12H  04/0600Z 23.6N  83.2W   20 KT  25 MPH...POST-TROP/REMNT LOW
 24H  04/1800Z...DISSIPATED
 
$$
Forecaster Cangialosi
 

Issued at 2100 UTC SAT JUN 03 2023


000
FONT12 KNHC 032038
PWSAT2
                                                                    
POST-TROPICAL CYCLONE ARLENE WIND SPEED PROBABILITIES NUMBER  10    
NWS NATIONAL HURRICANE CENTER MIAMI FL       AL022023               
2100 UTC SAT JUN 03 2023                                            
                                                                    
AT 2100Z THE CENTER OF POST-TROPICAL CYCLONE ARLENE WAS LOCATED NEAR
LATITUDE 23.7 NORTH...LONGITUDE 84.7 WEST WITH MAXIMUM SUSTAINED    
WINDS NEAR 25 KTS...30 MPH...45 KM/H.                               
                                                                    
Z INDICATES COORDINATED UNIVERSAL TIME (GREENWICH)                  
   ATLANTIC STANDARD TIME (AST)...SUBTRACT 4 HOURS FROM Z TIME      
   EASTERN  DAYLIGHT TIME (EDT)...SUBTRACT 4 HOURS FROM Z TIME      
   CENTRAL  DAYLIGHT TIME (CDT)...SUBTRACT 5 HOURS FROM Z TIME      
                                                                    
WIND SPEED PROBABILITY TABLE FOR SPECIFIC LOCATIONS                 
                                                                    
CHANCES OF SUSTAINED (1-MINUTE AVERAGE) WIND SPEEDS OF AT LEAST     
   ...34 KT (39 MPH... 63 KM/H)...                                  
   ...50 KT (58 MPH... 93 KM/H)...                                  
   ...64 KT (74 MPH...119 KM/H)...                                  
FOR LOCATIONS AND TIME PERIODS DURING THE NEXT 5 DAYS               
                                                                    
PROBABILITIES FOR LOCATIONS ARE GIVEN AS OP(CP) WHERE               
    OP  IS THE PROBABILITY OF THE EVENT BEGINNING DURING            
        AN INDIVIDUAL TIME PERIOD (ONSET PROBABILITY)               
   (CP) IS THE PROBABILITY OF THE EVENT OCCURRING BETWEEN           
        18Z SAT AND THE FORECAST HOUR (CUMULATIVE PROBABILITY)      
                                                                    
PROBABILITIES ARE GIVEN IN PERCENT                                  
X INDICATES PROBABILITIES LESS THAN 1 PERCENT                       
PROBABILITIES FOR 34 KT AND 50 KT ARE SHOWN AT A GIVEN LOCATION WHEN
THE 5-DAY CUMULATIVE PROBABILITY IS AT LEAST 3 PERCENT.             
PROBABILITIES FOR 34...50...64 KT SHOWN WHEN THE 5-DAY              
64-KT CUMULATIVE PROBABILITY IS AT LEAST 1 PERCENT.                 
                                                                    
                                                                    
  - - - - WIND SPEED PROBABILITIES FOR SELECTED LOCATIONS - - - -   
                                                                    
               FROM    FROM    FROM    FROM    FROM    FROM    FROM 
  TIME       18Z SAT 06Z SUN 18Z SUN 06Z MON 18Z MON 18Z TUE 18Z WED
PERIODS         TO      TO      TO      TO      TO      TO      TO  
             06Z SUN 18Z SUN 06Z MON 18Z MON 18Z TUE 18Z WED 18Z THU
                                                                    
FORECAST HOUR    (12)   (24)    (36)    (48)    (72)    (96)   (120)
- - - - - - - - - - - - - - - - - - - - - - - - - - - - - - - - - - 
LOCATION       KT                                                   
                                                                    
$$                                                                  
FORECASTER CANGIALOSI                                               




5-Day Uncertainty Track last updated Sat, 03 Jun 2023 20:39:54 GMT



 

Wind Speed Probabilities last updated Sat, 03 Jun 2023 21:22:07 GMT